Finding that free money was an exhilarating feeling! I was young enough at the time that $21 was an enormous amount of money.
The first time I discovered cash back apps was kind of like reliving that story.
Apps that pay you money just for clicking a few buttons?
This was as close to free money as finding cash lying in the street!
Cash Back Apps – Like Finding Free Money!
Ever since then I've been on a quest to find the best cash back apps for 2020 and beyond.
Below I will share the apps that are actually on my phone and making me money right now.
It's not every day you get the opportunity to make free money, but apps that pay you are one of those opportunities. And let's be clear – a lot of "free money" offers turn out to be scams. Most good opportunities do require time and effort.
But believe it or not, there are a few ways to make extra money every month with minimal work. And all you need is a cell phone.
Of course you're not going to find apps that pay you enough money to quit your day job and retire on the beach. But you can definitely make enough to pay for a date night, or your Netflix/Hulu/HBO obsession every month.
My Absolute Favorite Cash Back Apps in 2020
If you're just here for the best cash back apps, here's the list that makes me $500+ every year.
If you want more details on how we make money with each one, keep reading below!
#1 – Best Overall Cash Back App
WHY YOU NEED EBATES:

Get cash back for almost all your online shopping.
#2 – Best App for Cash Back on Groceries
WHY YOU NEED FETCH:

Quit clipping coupons and rack up savings at the grocery store.
#3 – Best Local Shopping App
WHY YOU NEED DOSH:

Best app for cash back at local stores and restaurants.
#4 – Best Featured Offer Cash Back App
WHY YOU NEED DROP:

Get rewards for your everyday shopping, plus special offers for bonus cash back.
#5 – Best App to Automatically Reduce Monthly Bills
WHY YOU NEED TRIM:

Automatically cut your monthly bills and pocket the savings.
How Can Apps Pay You Money?
Businesses aren't in the habit of handing out free money. Usually they are looking for ways to promote their services or find new customers.
If they can get customers in the door and make money in the long run, then they're perfectly happy to give a sign up bonus or cash back for using their service.
Most of the time, apps will entice you to sign up with a bonus and then you end up spending money down the line on something you didn't really need. These are the ones you want to avoid like the plague. But there are apps that pay you money to do what you're already doing.
The Loophole: Apps That Pay You Money to Do What You're Already Doing
What you really want is to find apps that will pay you do stuff you were already going to do anyway (like buying groceries or shopping on Amazon).
Lucky for you, I've researched dozens of apps to find the ones that can get you the most money for the least effort.
These are the top 3 apps that my wife and I actually use every month to earn enough money for a nice dinner out, and you can take advantage of them too.
---
1.

Drop App

– Best Cash Back App for Everyday Spending (and a $5 bonus)
The Drop app is my #1 recommendation for a reason. It's
super simple
to earn money.
In fact, after you sign up and link you're card, you
don't have to do anything ever again
(except collect your cash).
Once you download the app, it will ask you pick 5 stores you go to regularly. Every time you shop there, cash will magically appear in your account on the app.
For example, I set it up so that I collect cash back at Target, Chipotle, Trader Joe's, Starbucks, and Walgreens. Now every time I shop I get 1-2% cash back (on top of my credit card rewards!)

Code : 6854
There are also many other rotating offers available .
I just got $15 from Drop
for signing up for a free account with Stash, another app that lets you save money and invest it.
---
Bonus:

Dosh

– Another App That Pays You Easy Money
There's another app that is a great companion to Drop, called Dosh. It is extremely similar to Drop, but covers different types of stores.
Just like Drop, once you link a card in Dosh
you don't have to do anything except sit back and collect your cash.
Dosh covers a lot of local shopping and restaurants which you won't find in Drop, so it makes perfect sense to have both.
One of my favorite restaurants nearby gives me 5% back in Dosh every time I use my credit card there. It doesn't make me a ton of money, but it's certainly nice to get a little discount without doing any work!
Dosh also partners with stores on a rotating basis to earn you even more cash back.
As of this writing there is a 6% cash back offer at Walmart
which is an amazing deal if you shop there anyway.
---
2.
Ebates (Rakuten)

–
Get Paid for Your Online Shopping (and a $10 sign-up bonus)
I don't know about you, but I buy pretty much everything online these days. Only after a fruitless search on Amazon will I resign myself to picking up the keys and heading to the local store like a caveman.
If you shop online, Rakuten(formerly known as Ebates) is a no brainer way to save money on almost every single purchase you make (even on Amazon!)
Here is my most recent payout from Ebates, straight to my Paypal account: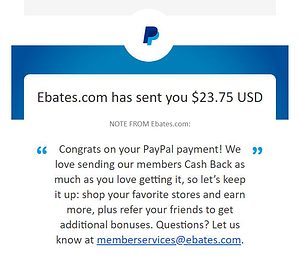 Rakuten offers cash back up to 40% of your purchase depending on the store (realistically it mostly ranges from 2-5% which is still a great deal for doing nothing).
How can they afford to do this? Basically, they have negotiated deals with stores so that they get a commission every time they refer customers to the stores. Rakuten shares a part of that commission with you, the shopper. Win-win for everyone involved.
For example, I recently booked a hotel on Expedia, and in addition to getting the best rate available online,
Rakuten gave me ANOTHER 5% cash back – about $15 – just for using their portal to do it!
---
3.
Fetch Rewards
– Get Paid to Scan Receipts
This is the newest app in my arsenal, and I love it because it's so easy.
All you have to do is scan your receipt in the app to receive points.
So far I've scanned 6 receipts and racked up a little over 9,000 points ($9) in my account. That may not seem like much, but if you go grocery shopping as much as my family does, every receipt adds up.
There are bonuses for scanning any receipt, and the app will automatically scan your receipt for brands that give additional cash back – no work on your part!
There is also the ability to link the app to your email to automatically import online receipts from Amazon, Target, Wal-Mart, etc. I really appreciate how easy Fetch Rewards makes it to earn points.
---
Bonus!

Ibotta

– Stack Your Rewards on Groceries (and a $10 sign-up bonus)
Ibotta lets you get cash back on your everyday grocery store purchases. It's a great addition to the Fetch Rewards app, as you can earn points with both from the same store!
Remember the olden days of cutting out coupons in the newspaper, collecting them in an envelope, and holding up the entire checkout line trying to find the ones you want to use?
Find and select offers in the app on products you buy
Buy products at the grocery store of your choice
Take a photo of the receipt to redeem offers
Ibotta deposits cash into your account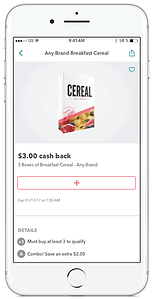 The amazing thing about Ibotta is there are always offers out there even for grocery staples you buy all the time that aren't name brands (for example 50 cents off any receipt, 25 cents off any brand of eggs, or 25 cents off bananas).
The average Ibotta user can make $20 per month ($240 per year)
just for doing their normal grocery shopping, and Ibotta has paid out over $438 MILLION in cash back.
---
Bonus! Lower Your Monthly Bills with

Trim

(get $100+ savings this week)
Has your cable/internet bill been slowly creeping up over time? Been meaning to call and negotiate it back down, but never seem to get around to it?
I get it. I hate having to call and negotiate my bill with a low-level sales rep that has no real power. If I'm lucky, I get transferred to someone higher up and have to go through the same speech all over again.
Enter Trim – the introvert's dream. Trim is a personal savings assistant that will automatically negotiate your bills down so you don't have to.
Trim is a free service that works through Facebook Messenger (Hooray! One less app to manage.) Once you link your accounts, it will get to work finding your bills and getting you cash savings. Trim makes money by taking a small cut of the savings it negotiates for you. It works with Comcast, Time Warner, Charter, and any other provider.
Here are the main ways Trim works to save you money:
Negotiates with companies to lower your bills (with your approval)
Finds all your monthly subscriptions and lets you cancel unwanted subscriptions with the click of a button
Trim is also hard at work adding new features (a recent one is automatically shopping your car insurance to get you the best rates). It's a great tool to have in the background working for you to lower your expenses and manage your financial life.
Best Cash Back Apps – Put More Money in Your Pocket
There are a million apps out there that can save you money, but from personal experience and tons of research,
Drop, Fetch, and Ebates, are 3 of the best I've found.
These 3 apps allow me to get hundreds of dollars a year cash back in my pocket every year without having to change my daily habits. That's money I can use for date nights, Christmas shopping, or squirreling away for retirement. I call that free money!